Content is a valuable asset to your website and content writing job opportunities are growing every day. But are you following content writing formula? Content writing for website takes a lot more than just writing. Are you using proper content writing tools for SEO?
The Internet was always about Content writing. Modern-day internet considers content as the key to online business success.
Contents are the source of information about your business domain, your services, and every other thing you offer.
Contents have always acted as the window to your business either in digital or traditional platforms.

Digitization has made content writing more important. Content writing with enough keyword research makes your website hit the top scores on the SERP page.
Content Writing and Keyword Research have always been different sides of the same coin. Certain Content writing tips can easily make your work noticeable. I have already covered some tips for content writing.
Content writing, done without Keywords Research surely delivers your message to the audience.
But the quantity, quality, and time relevancy of your audience are determined by the Keyword research. If you are going for Content Writing make sure you do plenty of keywords research and use effective content writing tools for SEO.
Content writing is the basic infrastructure of on-page SEO. If you think having tons of backlinks always ranks your page on top, then you are clearly mistaken.
Is driving enough traffic to your website enough?
The answer is clearly a big NO. What is the benefit of having tons of traffic that your website can't engage in? Believe it or not, session time spent by the user is another important factor that Google highly considers before ranking your page.
How to engage your traffic?
The definite answer would be, by generating butter content by adequate use of content writing tools for SEO.
Brian Dean from backlinko writes content as the key to SEO.
Everyone is on the race. Companies want their content to be informative and SEO friendly at the same time. The content writing jobs curve is growing like never before.
If your content is nice, It acts as a magnet to attract your readers to bounce back to your page every time, if your content is relevant to their query.
Contents help to build up the brand trust.
What are Content Writing tools for SEO and why are they important?
Tools are the instruments that help you to do your job more easily and efficiently. Content Writing tools for SEO are the different online SEO tools that generate SEO driven content.
There are various SEO dependent factors that are hard for content writers to evaluate right after writing any content. By simply using these tools they check your content from an SEO perspective and make your content becomes more user-friendly.

Here the list of different content writing tools for SEO I use every single day. These tools are completely free to use.
1. Yoast's Real-time content Analysis:
Yoast SEO tool for any WordPress website is a boon from the developers to Content writers. If you are doing content writing for a long time then you must be aware of the divergence of your content from the topic.
It happens with me too all the time. Delivering all your content and focusing on the SEO guideline is a real challenge.

Yoast SEO is available as the plugin if you are hosting a WordPress site. In case you don't have a website, Yoast has you covered by real-time Content Analysis.
Yoast evaluates your content based on SEO and readability. They use emoji and the color of the emoji indicates your performance.
Yoast allows you to add the Schema of different questions like FAQ, How to in a single click. Adding Schema is a real pain.
If a smiley face with Green emoji appears, then congratulations you have made it.
Editing snippets for the title, URL, and Meta description make these tools even more essential.
Rank Math is another alternative to Yoast SEO. It is very similar to Yoast in terms of SEO evaluation. The performance is evaluated based on the score.
2. Grammarly:
Your contents are not always perfect. There can be lots of grammatical mistakes in your content. When you are writing, you shouldn't worry about Gammer and spelling errors.
Grammarly is a great tool that can be used as extensions in your browser.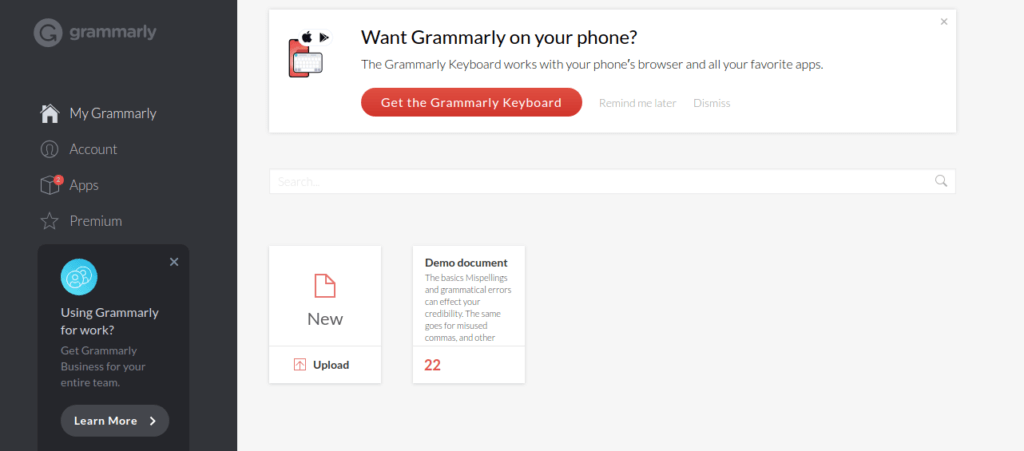 It's hard to keep track of the errors, one can do in content writing. It's not always feasible to go back and forth and check for your every mistake. Grammarly does the job for you.
It manages your content grammatically by making the necessary suggestions for good readability.
3. Plagiarism Checker:
Plagiarism is a crucial factor that's worth your consideration in SEO. Simply copy and pasting other's content won't help you. If your content exactly matches other content, then your content is said to be plagiarised.
Any search engine considers plagiarism content as the greatest threat to your SEO. Degrading ranks are not amusing if you are using plagiarism content. Google and other Search engines always focus on fresh and plagiarism free content.
To avoid Plagrasim, make sure to check for plagiarism and make necessary changes accordingly.
4. Hemingway Editor:
It's hard to tell the quality of any content. Is your content readable, understandable? Well, the answer to these questions is answered by the Hemingway editor.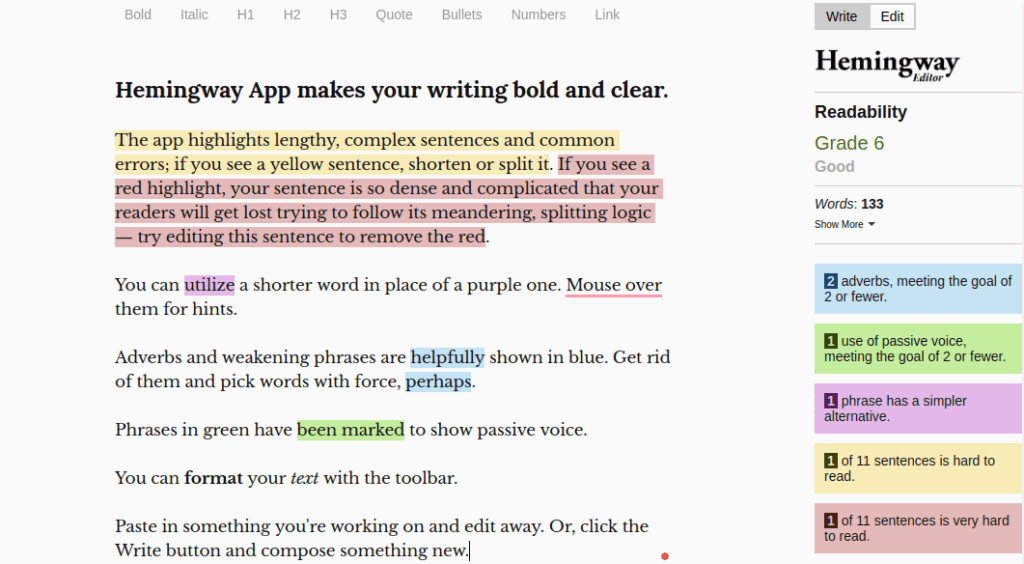 Hemingway Editor is an online tool that evaluates your content by providing certain grades. The better the content the greater grades you will achieve.

The grades here simple indication of the perfection of your content. This tool mainly focuses on Readability, hence the grades are the Automated readability index.
For reference, average Americans speaking is consider as grade 10th.

It counts the number of words your content contains. It highlights the use of adverbs, passive voice sentences. It also reminds the sentences that are hard and very hard to read giving you plenty of insights for improving your content.

5. Gdoc SEO Assistant:
Google Docs is everyone's favorite for online content development. Platform independence makes the tool more popular as it is used on a browser irrespective of the operating system.
It enables you to uses various SEO attributes like title tag, different heading tags, and all. It also readily exports the link you embed on your content.

Gdoc SEO Assistant is an Add-ons you can embed on your google online editor. This add-on lets you monitor your content based on the particular keywords you use.
It measures the number of words, your SEO, and the readability score. It as well shows different opportunities you can implement on your content to improve.

The separate section for showing the search volume of your target keyword makes this tool ideal.
It's not particularly a tool, but this idea is just as important as any other tool out there. Here particularly I am trying to refer to the images. The use of multimedia on your content greatly counts on SEO. If you use the images in proper order, then they can deliver punchy humor to your context. Make sure you always use Copyright-free images.
Nobody wants to be penalized millions for just using an image, right?
Here's a complete guide to finding the copyright-free images.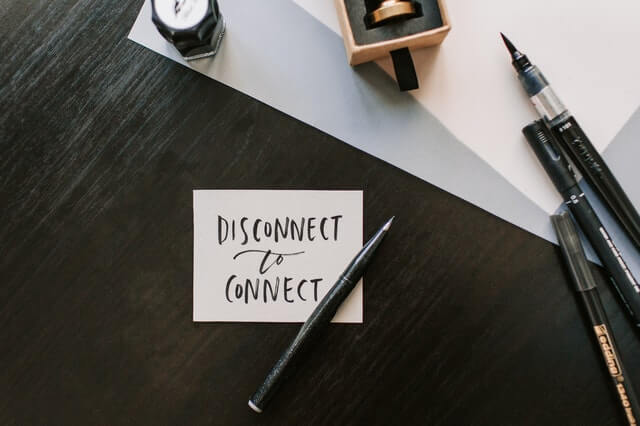 Conclusion:
Producing Quality SEO content is now easier with these above-mentioned tools. If you have just started your business and you want to excel in your SEO then, using content writing tools for SEO might be the most sensible thing to do at first.
Content Writing has always been the top priority of any SEO enthusiast. Content writing may sound fun but is hard and challenging at the same time.
If you are passionate about writing then you will enjoy the perks of Content writing. Content writing jobs are well paid too.

I believe content writing is a strong medium to interact with the world. Your content resembles every bit of your thinking and personality. And the selection of perfect content writing tools for SEO makes your content worth existing.

What are your takes on Content Writing? Share your thoughts by commenting below.
I hope you enjoyed it. Thanks for passing by.