Imagine you are on a tour to Paris, the most romantic city on earth. You are now lost in translation and couldn't find your hotel.
What would be your last resort?
Voila, you would obviously look at the map on your phone. The reaction is generic.
XML Sitemap is something similar to web crawlers as maps are for humans. Here we are going to discuss sitemap generators and ways to improve one with necessary sitemap examples.
Crawlers also get lost sometimes so they need guidance for better navigation of your website. The better the Crawlability, the better would be the indexability. Take a quick look at Crawlability and Indexability.
It is an essential part of SEO that can't be neglected and should be improved by all means.

What is an XML sitemap?
It is a road map guide that includes the structural orientation of your website. It contains various information on different pages of your website.
It is generally constructed on "extensible Markup Language" hence, the term XML sitemap.
A typical sitemap example is shown below:
Sitemap example for single URL: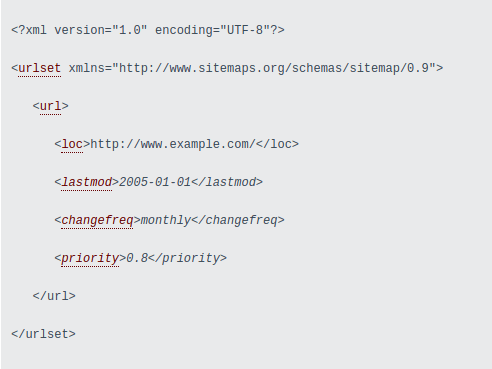 Sitemap example for multiple URL examples:
In simple meaning is an XML file that contains the list of URLs available on your website with operational information for web crawlers.
The file written in HTML format is known as an HTML sitemap.
You can view it by simply adding /sitemap.xml at the end.
Example: abc.com/sitemap.xml
Types of an XML sitemap:
The Internet is full of different types. Everyone seems to classify it according to their own classification. However, they are not wrong. Let's not be confused and keep it plain and simple.
Below are the 5 most used sitemap types I found during my research.
1. Page XML sitemap :
These are the general types that we use to structure different URLs to index on different search engines. Generally, they use an unstyled format which is only machine-readable.
However, you can use CSS for styling to make it more understandable.
2. Image XML sitemap:
They are the special type that is generally used for specifying images and their information.
Using this, you can add geo-based information and submit to Google or any search engine. They help to rank your image on Google image search.
Image Sitemap example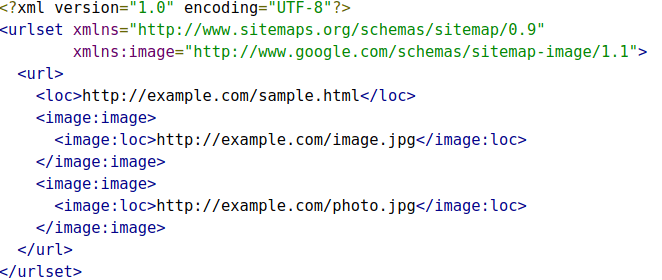 3. Video XML sitemap:
They are the types that deal with the video resources of your website. It is used to magnify the information on video content. They help in ranking your video on Google video search.
Video Sitemap example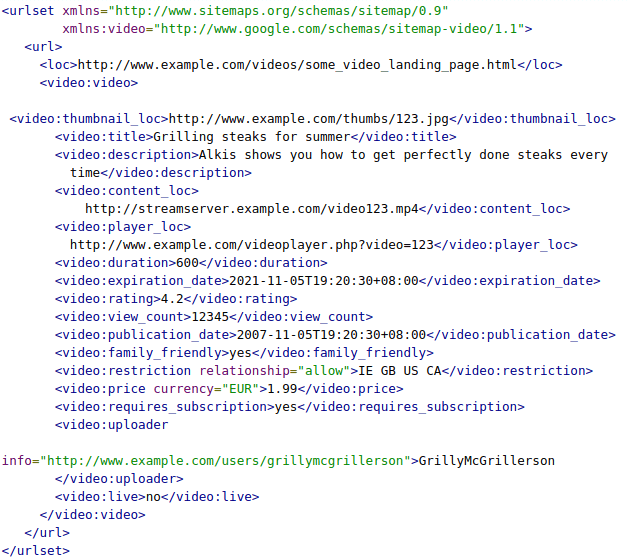 4. Mobile XML sitemap:
Who wouldn't want their website to be mobile friendly? Everyone is using mobile devices these days. It will enhance your website for feature mobile devices that uses WAP/WML for browsing the internet.
5. News XML sitemap:
Use of news XML sitemap, you will provide an insight for web crawlers about your news content. Once you are done optimizing your news feed according to a standard format, submitting it will enhance your news on Google News.
Google recommends the standard formatting for specifying the rich snippet feature on SERP pages. Schema gives you formatting for all kinds of content.
Learn from experts:
Should you be using an XML sitemap generator?
Are you the coding geek or a regular guy like me?
If you are a normal person like me, then I have great news for you.
It can be hard to develop. Ahh! Man coding or even writing an XML format file sucks.
The sitemap generator can come in handy. There are lots of online tools that will instantly generate one for you.
Just enter your website's URL and problem solved. You can download the file but still, you need to edit the frequency and priority to prioritize the crawling process.

Generate an XML sitemap on WordPress:
There can never be any easy options( for developing a website) other than WordPress. It simplifies not only the development process but also the management of the website. Working on SEO was never this easier before.

There are lots of plugins available for SEO. They help you regulate your website from an SEO perspective. Generating a sitemap on WordPress only costs you a click. Just enable the XML sitemap tab by clicking, then this plugin will automatically generate when necessary.

I use RankMath for my SEO needs. Here's how it looks.

Best Practices on an XML sitemap:
There are always better ways to do things. The best practices are the widely followed principles that let us obtain the maximum output from the process. Here below are 4 best practices.
When you use a sitemap generator, make sure you make the necessary changes on priority and frequency that is convenient for you.
If you have manually written an XML sitemap then make sure to validate your file. You won't want to regret submitting a file that is full of errors. You can validate it from here.
Make sure you add the sitemap file to your root folder and adding it in the robot text file can be a good idea. If you are using WordPress as your cms then the plugins will do the job for you.
Last but not the least, submit the sitemap on different search consoles.
Conclusion:
An XML sitemap is very essential for web crawlers. Google web crawlers will eventually crawl your website linked via internal links. However, they can be very effective sometimes.
If your website is new and you lack sufficient external links or you own a large site, then the size of the website might complicate the crawling process. Submitting one can greatly help in these cases as well.
If your website is big then try breaking the XML sitemap into different segment folders.

No matter the nature of the website, it's a privilege to add an XML sitemap. Better play safe because only submitting isn't going to harm your website anyway.
What are your thoughts on this topic? Were we able to meet your expectations? Share your feedback by commenting below. We really appreciate your words.
We promise to be back with another awesome content. Until then, Bye and stay safe.

Other stuff that might interest you.