WhatsApp is one of the popular messaging app owned by Facebook. WhatsApp includes a feature that allows you to delete sent messages for everyone in a Group Chat or in individual chats too. But did you know that you can actually read deleted WhatsApp messages too?
Through the delete message feature, you can delete a sent message within a stipulated time. However, this functionality refrains us from seeing important messages that were deleted either unknowingly or on purpose. But this is irritating, right? I mean it keeps bugging ones mind when you know someone had sent something but you can view it no more. All you can only see is the "The message was deleted" phrase on your WhatsApp.
Wait a minute though. Because there are some way through which you can read deleted WhatsApp messages. Well, if you're curious about the deleted message about there's a way to find that out.
The Delete Messages feature has a time limit of one hour. After that, which you won't be able to delete the messages.
Read Deleted WhatsApp Messages using Notisave
Notisave is an application that is designed to record all notifications of your messages. Notisave application will help you to keep a record of all the messages which were erased or not. It creates a log of incoming messages and notifications. If you want to record all the notifications of a message then you should allow the app to access your notifications.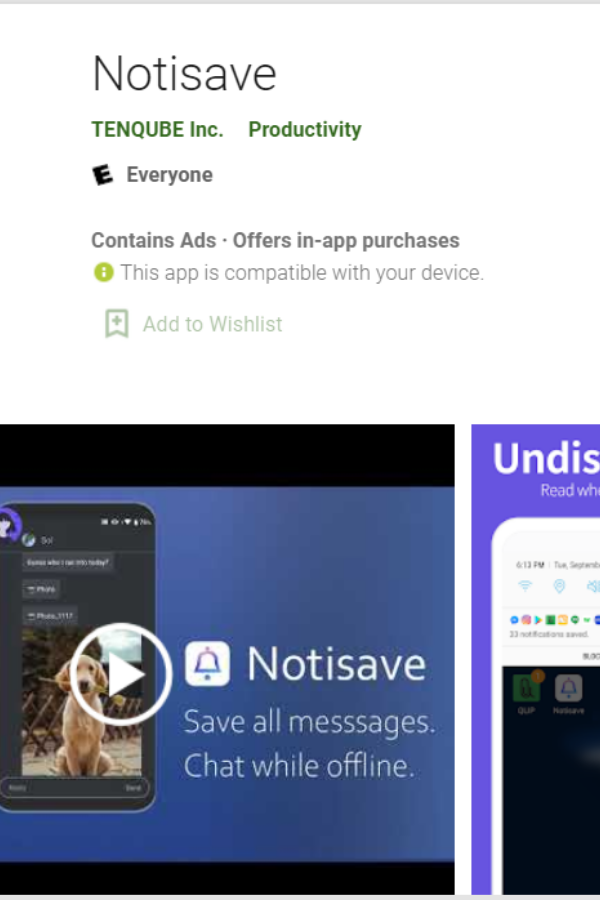 Furthermore, when you open the applications the first time, then that application will ask you to allow them permission. After that, it will log the notification which you receive and also those messages which were deleted by the sender. You need to go to log and check all notifications of WhatsApp deleted messages to view a deleted message. In WhatsApp you'll notify by message was deleted, but you can get that deleted message to instill in the notification app.
Read deleted WhatsApp Messages using the WhatsRemoved+
You need to follow these steps to read the WhatsApp messages that have been deleted.
Download the WhatsRemoved+ app from the Google play store and install it.
After installing the app, set up the app, and agree to the terms and conditions as prompted on the screen.
Now, you'll be asked to select the apps of which you want to save the notifications and detect changes. From the list below select WhatsApp and tap next.
On the next screen, the app will ask whether or not you want it to detect and save deleted files and you need to select the "yes,save files" option.
From then on every notification that you receive on WhatsApp, including the deleted messages will be present on the WhatsRemoved+ app. Then you need to do is open the app and select WhatsApp rom the top bar.
Apart from the WhatsRemoved+ app, there are also various apps on the Google play store for the same purpose. The options include WhatsDeleted, to view Deleted Messages and photo Recovery, WAMR-recover deleted messages and status download, and a lot more. You can try out these Android apps and select the one you like most. They all do the same thing but you'll find something different in their interface and features.
Now, there's always going to be a lot of security risks involved when you allow multiple permissions to third-party apps. They collect your personal data among many other things. So, this is one thing that you should consider before using such apps. Even though the aforementioned apps claim they handle sensitive data with care, one can never really be sure about such things. Thus, always be careful regarding the app that you use. Whether it is to read deleted WhatsApp messages or for some other tasks.
How to read deleted WhatsApp messages on iOS?
Sadly, there's no such app available for iOS apps for you to read deleted WhatsApp messages. Maybe something will pop-up in the future.
I hope the above mentioned two methods have helped you to View the deleted message sent by someone on WhatsApp.
After reading how to read deleted WhatsApp messages you may also have a time also read these articles: