None is untouched by the charm of Bollywood movies and songs as we all have grown old by watching Bollywood movies and Series. Many of us prefer watching movies in theaters, while others watch Hindi Movies Online. As we Nepalese and Indian culture are alike, we can feel and understand the emotion of Bollywood movies.
Bollywood is an Indian entertainment industry that releases the largest number of cinemas each year compared to other entertainment industries across the world. The majority of Indian cinemas are not worth to watch while some of them are quite good also. Due to Covid-19, the trend of watching movies and series online has been gradually increased these days.
Yet, not all of them are considered as legal as they provide pirated files or torrents that stream Bollywood movies illegally. I know that downloading pirated movies seem like a handy choice for many, but such actions can invite a fine or jail sentence. Additionally, there is always a risk that malware attacks while attempting to stream or download Hindi movies for free from such websites. So, here is the list of the Free Sites To Watch Hindi Movies Online and legally in 2020.
Free Sites To Watch Hindi Movies Online
Amazon Prime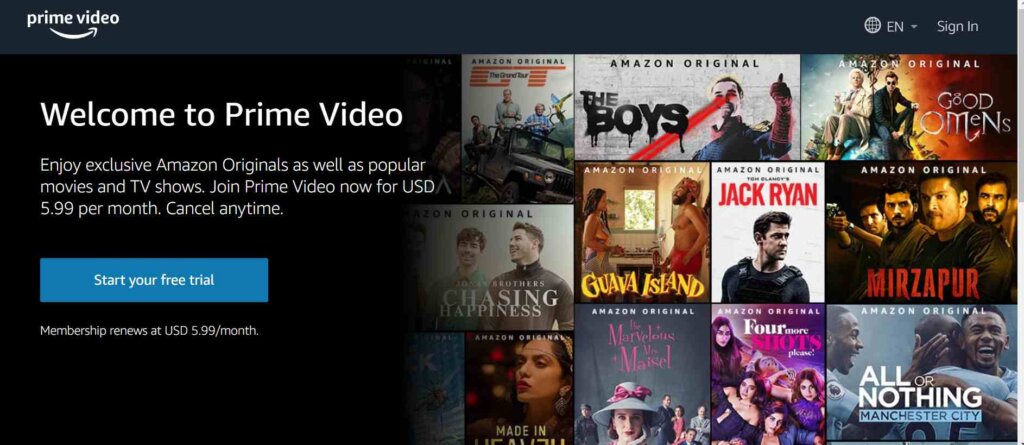 Amazon Prime video has stabilized itself as one of the top movie streaming websites. The only platform that can give an open challenge to Netflix because of its more affordability and got many contents if we compare with Netflix. Users can find recently released Bollywood as well as other movies and Series here.
In the beginning, it offers 30 days free trial period, and During that time, you can watch enjoy it for free. After that, you have to buy a very affordable Subscription that is Rs. 129/mo and Rs. 999/yr.
Start your free trial here.
Netflix
Netflix is one of the topmost platforms for movies and series streaming websites and apps. A few years back, Netflix was not available in Nepal. But now, it has approximately 14,000 headlines in its library and is accessible in 190 countries. Earlier, Bollywood contents were less on Netflix, but now there are lots of good Hindi movies and series available on Netflix. You can also download it to watch it offline. It offers a 30-days trial period at the opening, and later, one has to pay for the streaming service. It is a bit costly compared to Amazon prime Video.
Start your free trial here.
HotStar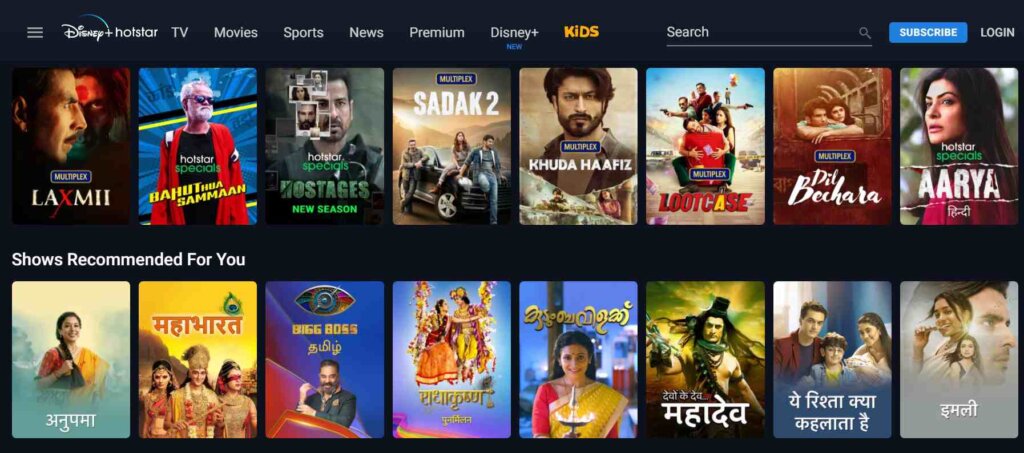 Hotstar is recognized as one of the most common platforms for watching preferably Hindi movies online. It is fully legal and user do not have to register to enjoy movies. Streamers can find nearly all the recently released Hindi movies here. Not only movies but Streamers can watch sports, series, and news as well. Users can find almost 30 pages in the series section.
Enjoy the Hotstar app here.
Voot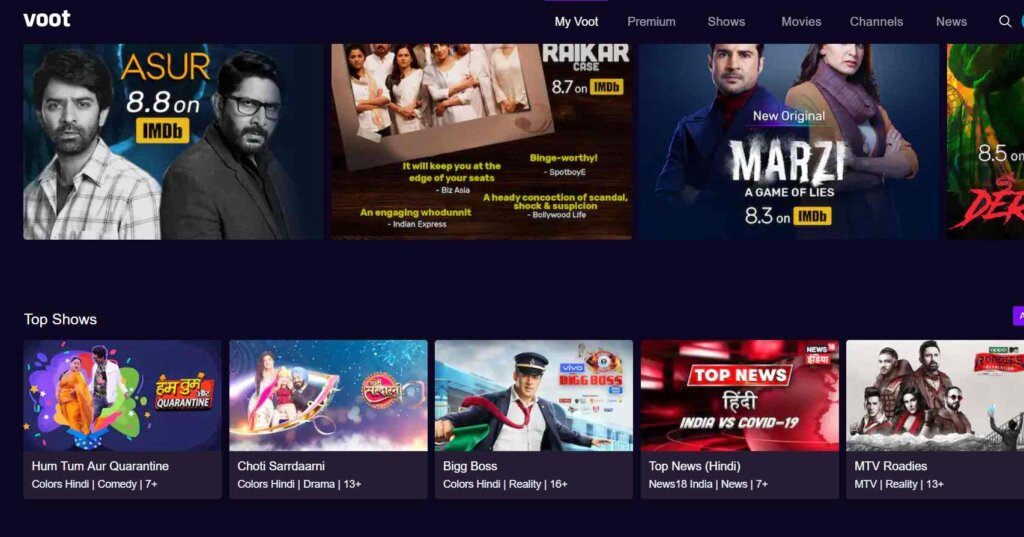 Voot is definitely one of the best free movie streaming sites that offers Hindi movies as well as Kannada, Telegu, Bengali and English as well. The best part about the site is Users can find both new and old movies and including the Search is very handy here. Users can enjoy TV serials, news, sports, and short films. Before that, Users just have to register to watch movies and it is totally free.
register your Voot account here.
Zee5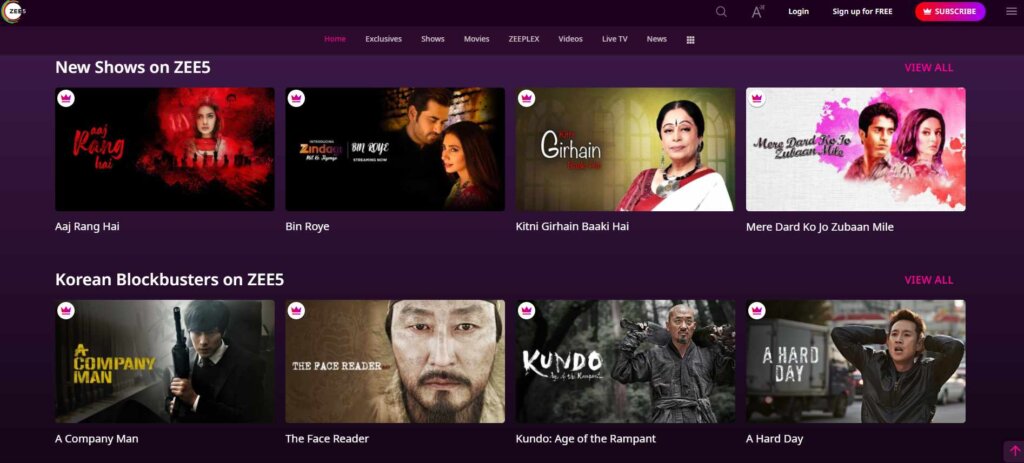 If you are seeking a website to enjoy Hindi movies online free of cost without being registered, then Zee5 is one of them. It has a huge collection of movies, where most of which are free-of-cost. Users only have to search for thumbnails without the "Premium" label in it.
Besides Hindi, the site extends movies in other regional languages too. Users can also enjoy TV shows, news, and other short videos on the website. But if you are thinking of buying premium membership, Zee5 offers plans starting from INR 49 to INR 999 per mo.
Download the Zee5 app here.
SonyLiv
SonyLiv, a Sony-owned video streaming Website, holds the content of the library of exceeding a dozen TV channels in India. This site is free to watch Hindi movies online as well as contains Premium Content. The website's UI is simple, and the Premium Content is clearly labeled as a Premium to help you sort the free-of-cost movies.
Besides that, the users do not even have to register an Account to watch the free content. The website also offers a premium account that permits you to unlock even more content by spending Rs 99/month, and if the user chooses to pay Rs 499, the user gets to enjoy Hindi movies online for the whole year.
Watch
Enjoy movies here.
Youtube
While many channels on YouTube let you watch Hindi movies online for free, most of them are practicing it illegally. There are only a few YouTube channels like Rajshri, Shemaroo Movies, Goldmines Telefilms, and so on that stream their copyrighted Bollywood movies for free and legally:
Eros Now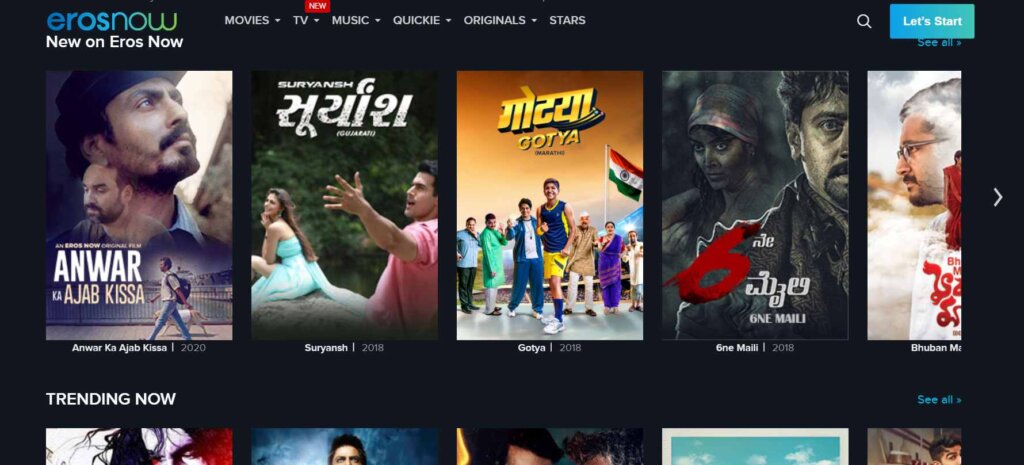 Eros Now is a free online movie and Web-series streaming app with a simple UI. Ads will not disturb users while watching movies online. Not only movies, but users can watch, and get entertained by music, TV shows, and regional content as well. The streaming speed is good, and the video quality is clear as well. Overall, it is a great platform to watch Hindi Movies Online.
Watch Hindi movies online here.
Spuul
Spuul is another one of the sites to watch Hindi movies online for free. The website has a simple UI with a dark mode as well. Here, most of the movies befall under the Premium section, under which you can prefer to pay INR.99 per/month to watch new Bollywood movies online. But for those who are looking to watch Hindi movies for free on Spuul, click and visit the list of free Hindi movies directly.
Watch Hindi Movies Online here.
YuppFlix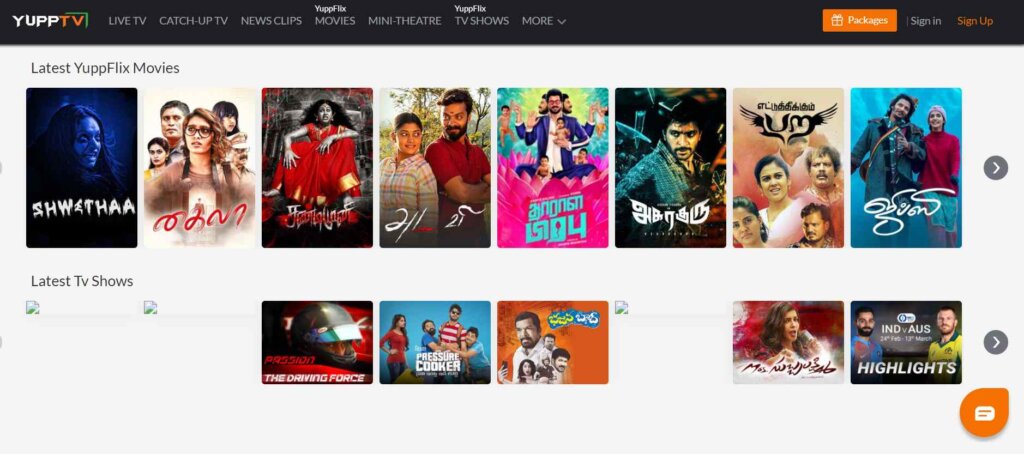 YuppFlix provides a huge collection of Hindi as well as English, Telegu, Tamil, and other language movies. Yupp Tv provides this service which also powers live TV channel services in India. Mobile app for android and ios is also available at Play Store and Safari, and that is a good point. It allows a 14 days free trial, and then you can purchase the premier subscription.
Watch Hindi Movies online here.
Airtel Xtreme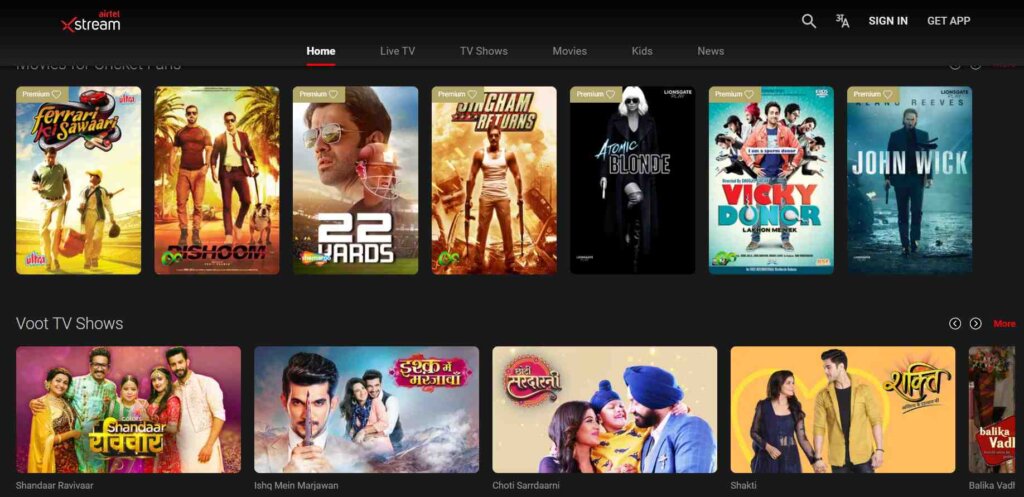 Airtel Xtreme permits to access and watch Hindi movies free to its users who have the Airtel connection. Airtel Sim Users can watch free online movies legally here as there are thousands of movies available here. In addition to the Hindi language, users can watch movies from another language as well. It is free for Airtel users only.
Watch Hindi Movies online here.
JioCinema
Similar to Airtel Xstream, JioCinema is the next free online Hindi movie streaming app from a Telecommunication Goliath. So, if you are a Reliance Jio Sim user, you are already a subscriber of a movie streaming service i.e. Jiostream. JioCinema also has a smartphone app that allows you to enjoy entertainment movies and series.
Watch Hindi movies online here.
Hungama Movies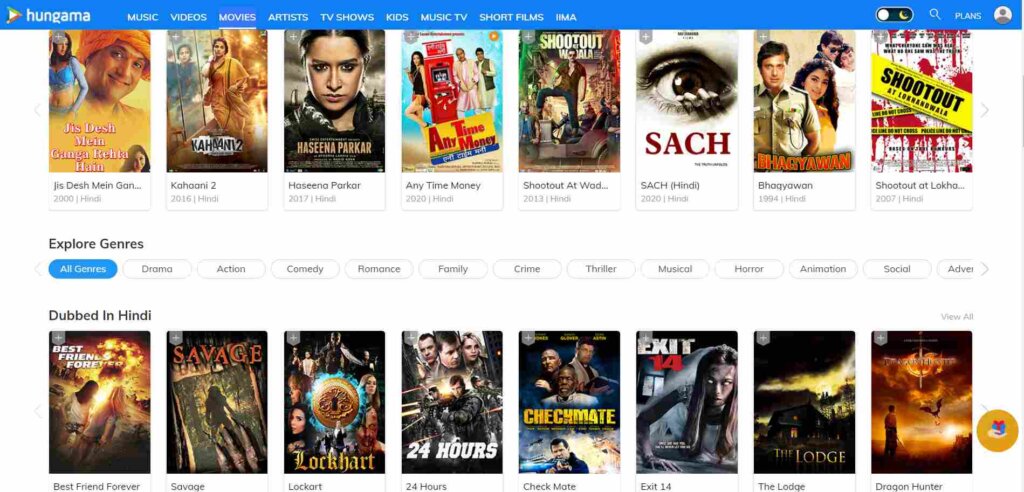 Hungama Movies is another movie streaming website that permits users a 30 days free trial where can you can watch movies for free, and later, you need to subscribe by paying a certain amount of money. You can also download it to watch it offline. Not only movies, but this site also hosts many songs that are streamed in HD quality.
Watch Hindi Movies Online here.
Hence, these were some legal founts where Streamers can watch Hindi movies online for free-of-cost without getting registered. My suggestion will be to go for Premium services instead of illegal websites that arrive with a risk of malware. Most of the websites on this list offer Premium services, which users have to pay after a free trial period.
Also do Follow: