In this pandemic, many of us have been working from home for months. This situation has compelled us to use Zoom for video and audio calls. This app has many hacks and one of them is the way to automatically mute your mic in Zoom meetings.
Zoom's popularity has risen exponentially. Mainly due to its simple and intuitive UI. From schools to businesses to other workplaces, Zoom has become the primary means of communication due to COVID-19.
Sometimes zoom meetings can be embarrassing, especially when those meetings include a ton of people and they can hear the strange noises in your place. So, many users don't know about the features of Zoom like how to automatically mute yourself on Zoom. Did you just notice that word "automatically mute"? Yes, you can automatically mute your Mic in Zoom Meetings. In my opinion, we all should know about this feature. And we can get everyone to change this setting. Also, it helps our host or meeting leader to easily direct the flow of conversation. Furthermore, participants can then selectively unmute themselves when they have something to say.
Now, you don't need to be embarrassed about the certain things. Not even accidentally overheard toilet flushes! So, here are simple things you can do right now to mute your Mic in Zoom Meetings.
How To Automatically Mute Your Mic In Zoom Meetings?
Go to the Settings option in the Zoom app
In the Zoom desktop app, click the settings wheel in the upper right corner of the app to access your account settings.
Look for the Audio section in the settings panel
Once you access your account, you need to choose the Audio option which is located in the sidebar on the left.
Select "Mute my microphone when joining a meeting"

After clicking on the Audio option, you'll get several options at the bottom of the menu. You'll see "Mute my microphone when joining a meeting" you should tick on that box. That's all you need to do mute Zoom calls before joining the meeting.
In the Audio tab, if you want to temporarily unmute yourself you can also examine checking the setting "Press and hold SPACE key. That means, whenever you want to say something at the meeting, you can press the space bar as you're speaking. Then when you release the space bare, you are muted again.
How to auto-mute on Zoom on the Mobile app
Download the Zoom App on your Mobile 
Then open the app and sign in.
Tap Settings in the bottom menu
Tap on meeting in the settings
Turn on "Always Mute Microphone"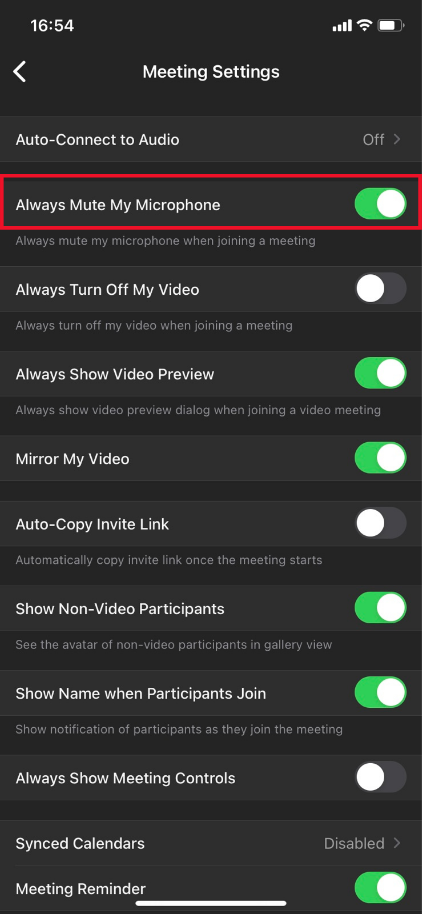 Now, whenever you join a meeting, your microphone will be muted by default.
How to Unmute Zoom call?
Well, we have discussed about auto-mute your mic on Zoom call. Also, I'll tell you how to unmute Zoom call. Suppose you are in the middle of a meeting, and you want to unmute your Mic to speak. Then you need to do is click on the "Unmute" option. For this you can also press the shortcut key- 'Alt+A' to unmute the Microphone.
I hope it will help you to Automatically Mute your Mic in Zoom Meetings. If you have some other hacks related to Zoom other than the automatic mute feature, then do share them in the comment section below.
If you liked reading How To Automatically Mute Your Mic In Zoom Meetings, then you might also like the following articles: