The Android 11 update had arrived a few months ago, and as expected, the latest Android update is available on all Pixel devices except the original Pixel. Android 11 may feel related to Android 10 but delivers additional new highlights. But Android 11 comes with lots of exciting new features.
Aren't you excited? And if you want to know more about it, then you must stick with us till the last because we are going to discuss Android 11 Best Features, Release Date, and Supported Device List.
When Was Android 11 Released?
Android 11 got released on 8th September 2020 and marked the release on Pixel phones except Google Pixel 1 and soon will be available to other devices as well.
List of Android 11 Best Features:
Some of the major Android 11 best features are mentioned below:
1. Built-in screen recording
This feature might not be trending to Android users, but Android 11 allows you to record what's on your screen. This can be very helpful while creating videos and can be shared among friends easily. You can record your screen and use the mic to explain what you are trying to do, this can be helpful while creating tutorial videos. Altogether, it is a good feature.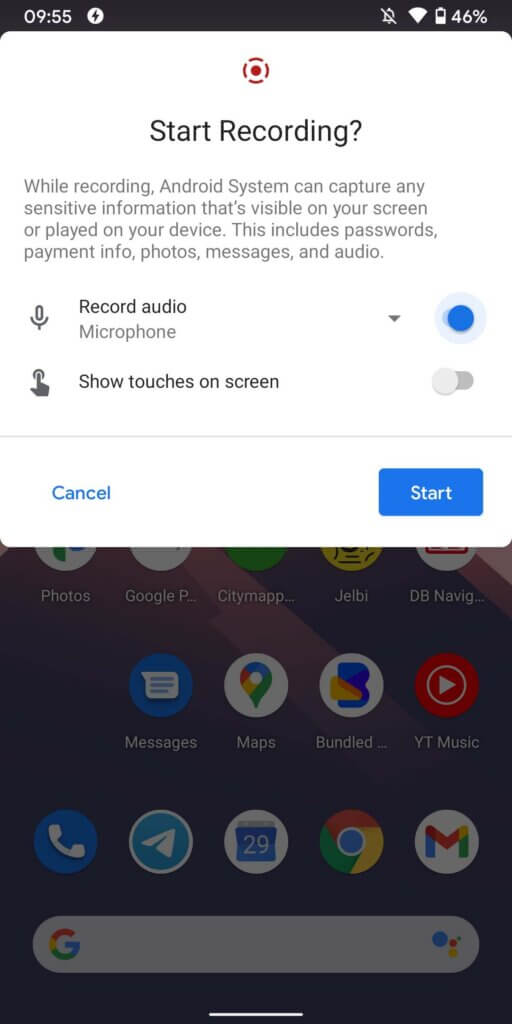 2. New conversations tab
There is no rocket science on how to open the notification bar. It's very simple, you just have to swipe down from the top. In Android 11 if you swipe down from the top, you can see two sections consisting of notification and conversation. The conversation section holds chat notifications from an app like Whatsapp, Facebook, Twitter, etc. This feature assists you to give a prime center on emergency chats rather than other notifications.
3. Chat-Bubbles
Chat-Bubbles feature is one of the Android 11 Best Features that can be seen in Android 11. This allows you to open the conversation in little chat bubbles nearby the screen edge like in messenger. The benefit of Bubbles is that it facilitates multi-tasking without lacking to close the current app. You can pin your conversations so that they appear on top of another app. Google initially launched this feature in Android 10 but was not fulfilled till now.
Another enhancement is seen on Gboard that is the default Android keyboard console which allows you to auto-fill form as Chrome practices. This can save your time to some extent.
4. Smart home and media control
The new Android 11 update is one of the best Android 11 best features fitted to those who use the contents of smart home devices. By holding the power button for a long, you can control IoT(Internet Of Things) devices that you have connected to your phone. There are other media handles too. Voice access is simpler and quicker to use in Android 11.
You can control your app and navigate your phone all by speaking aloud. You can also use voice access offline for support whenever you require it. There is also a new mode called Bedtime mode in which you can run this mode during the night which sets your screen to black & white which controls your vision and also allows Do Not Disturb mode.
5. Improved prediction tool
Android 11 has included a new feature that predicts your habit and pattern. Now you don't have to manage or sort apps of a similar kind into one folder. This feature does this automatically. For example, it sorts all the gaming app into one folder.
Smart reply is also the feature you have to keep eye on. In Android 11, the smart reply is even better. This feature intelligently suggests your replies based on your previous conversation. Therefore, the words and emojis appear at your fingertips.
6. Security and Privacy
This version of Android has appeared with improved security and privacy. There have been some changes to app permissions. Now you can choose the way your apps get updated. Android 11 prepares your device with the most recent defense.
Android 11 provides security on every level. Besides that, it provides a platform with built-in safeguards, regular security updates, putting users in control, etc.
Other Android 11 features are mentioned below:
Dark theme scheduling
Notification history
Pin apps in the share sheet
App suggestions
Bluetooth in an airplane mode
One time permission and auto reset
List of Android 11 Supported device:
Google officially released the OS on September 8, 2020, and began spreading it out to its Pixel smartphones. The Giant Smartphone Manufacturer Companies such as OnePlus, Xiaomi, Oppo, and Realme joined that even of an update for a few of its phones on the same date. You can read a full article on it on our page. The link is mentioned below:
Android 11 Update on Smartphone List: When Will My Device Get Android 11?
---
Here, we have provided you an overview of the 10 Best And Free Media Players For Windows 10 PC | 2021 Edition. Now, it is up to you to take the next step. If you have any queries regarding the following topics, please feel free to ask us in the comment section down below. Don't forget to share it with your friends if you find it helpful.