Facebook is one of the most popular social media platforms in today's world. The higher the numbers of Facebook users increase, the chances of a Facebook account getting hacked also increase. That is why it is mandatory to enable two-factor authentication on Facebook in the present context.
To enable 2FA on Facebook without a phone number requires two distinct sorts of identification to reach an online account. It appends an extra tier of protection to your account. There are two distinct modes of setting up 2FA on Facebook; by providing your phone number or by using an authentication app.
But the recent report says that Facebook supplies the phone number of users applied while adding 2FA to advertisers. Therefore, if you are doubtful about giving your phone number to Facebook, here is how to enable two-factor authentication (2FA) on Facebook without providing your phone number using an authentication app like Google Authenticator or Duo Authenticator.
Enable 2FA On Facebook Without a Phone Number
You can activate two-factor authentication (2FA) on Facebook without a phone number in some simple steps using a mobile device or laptop and desktop. Before that, you will require Google Authenticator or Duo Authenticator app installed. Google Authenticator is an easy option as it has a better interactive interface. Once you login into the Facebook app:
Select the three lines menu bar (☰) in the top-right of the app.
Click on the "Settings and Privacy".
Select "Settings".
Click on "Security and Login".
Scroll down and select "Use two-factor authentication".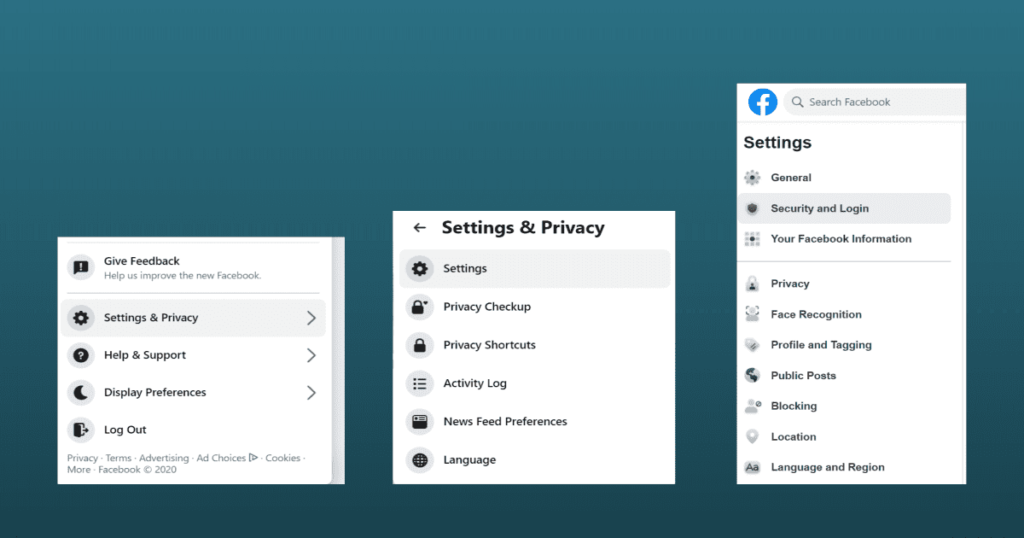 From the next page, Facebook has two options to use your phone number (Text SMS) or Authentication app for receiving verification codes from Facebook. Make sure you click on the Authentication App and continue to enable two-factor authentication (2FA) on Facebook without using a phone number.
Enter the Facebook password again and scan the QR code with your Authentication app. After that, enter that 6-digit code the app provides you on your smartphone.
If you're using your smartphone to enable 2FA without a phone number, click on activate on the same device. Then You will get forwarded to the app Google Authenticator. This app will ask you to save the key for your account. Tick on Yes, thus, you successfully enable 2FA on Facebook without a phone number.
Why enable 2FA on Facebook without a Phone Number?
Two-factor authentication (2FA) means two-tier certification or dual-factor authentication, a defense method in which users provide two different authentication factors to prove themselves. Sometimes people can get your password and log in to your account. If you have allowed 2FA on Facebook, even if someone is attempting to log in to your Facebook account, you would receive an OTP (generally 6-digit code) on the phone number or the Authenticator app.
To be honest, using two-factor authentication is a little bit a boring job. Still, if you have set it up, it is considered a good effort, and the extra layer of security it provides addresses it worth doing. So, it is important to enabling two-factor authentication not only on Facebook but everywhere else.
But what would you do if you logged out of your Facebook account, and you do not have access to your phone number right now? At That time enabling 2FA using an Authentication app would be more beneficial.
Moreover, this is not the only reason behind which one should enable a two-factor authentication service on Facebook by using the Authentication app like Google Authenticator and by not using a phone number.
There is no secret that Facebook does not value your privacy. Once it is reported in the New York Times that Facebook hand over the phone number, you provided for enabling two-factor authentication to advertisers to target you. In addition, Emojipedia's Jeremy Burge commented in a tweet that if the social network has your mobile number, it lets everyone on its program to look you up with it by default – and you cannot change that truth. That is why it is necessary to enable two-factor Authentication on Facebook without using a phone number and using an Authentication app to secure your privacy and be safe from being watched.
Also read: How to Change Facebook Name? Easy Steps
Benefits of enabling 2FA on Facebook
It improves security as it requires a second form of identification to log on Facebook account. Rather than that, the method assures users that nobody can get logged into their Facebook account except them. Though the hackers know the passcode, they cannot access it as long as users have their mobile phones with themselves.