Digital Marketing: A word which we hear nowadays more and more.
Maybe You have heard that " Digital Marketing is changing everything". You might also have heard that the right marketing strategy is the tool that can unlock the true potential of digital marketing.
Today's marketing is mainly based on digital. Technology has dramatically changed the way of living which increases the use of electronic devices.
Today's customers are online: hanging out on social media and searching online when they need anything.
Digital marketing puts you in those same channels so that you can direct contact with your customers through digital media.
If you are wondering what exactly digital marketing is.
Then let's get started.
Digital marketing is advertising delivered through digital channels such as social media, mobile applications, email, web applications, search engines, websites, or any other new digital channel.
Or Simply saying it is any form of marketing product that involves electronic devices.
You can do digital marketing both online or offline.

Digital Marketing Strategies:
The below-listed strategies help you to enhance your business digitally.
7 Digital Marketing Strategies
Pay Per Click Advertising
Search Engine Optimization
Paid Social Media Advertising
Social Media Marketing
Conversion Rate Optimization
Content Marketing
Native Advertising
Email Marketing
Let's explore in detail!
Pay Per Click Advertising
What exactly is pay per click advertising? Does it actually enhance your business by providing profitable results? You must have a lot of questions about it.

Let me clear all questions.

Pay per click advertising is actually a platform that allows you to create content, show it to relevant users, and then charge you for a specific action taken on the ad.

You have to pay money for ad clicks and other actions like impression, video views, and on-site engagements.
It is one of the best platforms to enhance your market digitally.

Search Engine Optimization
When you need to know about any product/services, the first thing you do is search online, Right? SO it's important to rank on top of search engines. Whenever people are looking for products/ services you are offering.
If you don't want to pay more money and only want organic users then you can also use search engine optimization and rank pages or blog posts on your site organically.

You don't have to pay money for every click, but you have to take a bit of time and effort to rank your page on search engines.
For deep knowledge on SEO, you can also check this article Search Engine Optimization.

Paid Social Media Advertising
Nowadays many people are using social media platforms like Facebook, Instagram, Twitter, LinkedIn, Pinterest, and Snapchat.
So you can also run your ads on these sites.

Paid Social Media advertising is the best platform for building awareness with audiences that might not be aware of your business.

Facebook Advertising is one of the largest and most powerful social media advertising platforms where billions of monthly users are active.

Social Media Marketing
There are a large number of different social media platforms that you can join to promote your business without paying any money in an organic way.

Social media marketing is the free, organic way to use social media platforms such as Facebook, Instagram, LinkedIn, Twitter, YouTube to market your business. Just Like SEO, It will take a bit more time and effort, but in the long run, it can deliver better results.

Conversion rate Optimization
Conversion Rate Optimization is the systematic process of increasing the number of website visitors who take the desired action like filling out a form, becoming a customer, or any other.

The CRO process involves understanding how users visit your site, what actions they take after visiting your site, and what's stopping them from completing your goals.

Most of the time businesses use CRO to get more conversion on their website.

Content Marketing
Content Marketing is one of the fairly broad digital marketing terms. It is the process of planning, creating, sharing, and publishing content to reach your target audience.
It helps to boost factors like brand awareness, sales reach, interaction.

Native Advertising
Have you ever got to the bottom of the content and see a list of suggested content? That's called native advertising.
Much native advertising falls under content marketing because it uses content to attract clicks.
It can be a little hard to spot since it is usually mixed in with unpaid article recommendations.

Email marketing
Email marketing is the most direct and effective way of connecting with your leads and turning them into customers.

Today's marketers want to do more with less. They want to connect with their audience in a highly personalized way but within a low budget.
Email marketing is one of the effective digital marketing strategies for sending emails to audiences and customers within a low budget.
Effective marketing through email converts prospects into your valuable customers.
Does Digital Marketing Work?
Digital Marketing is a great option to enhance your business. If you know who you are targeting, then you can use digital marketing to target anyone, anywhere.
It does not matter what your company sells, digital marketing still involves your audiences' needs and creating valuable content for your users. However different businesses adopt different types of marketing strategies digitally.

Business to Consumer Digital Marketing
If your company is doing business with consumers, depending on the price point of your products, it's more likely that your digital marketing efforts should mainly focus on attracting users to your website, engaging with your daily prospects in social media channels, and turning them into your valuable customers.
For that reason, you should focus to get people into and through their marketing funnel.
For B2C companies, platforms like Instagram and Pinterest can be more valuable than a business-focused platform like LinkedIn.

Business to Business Digital Marketing
If your company is doing Business to Business, your marketing strategy should be focusing on raising brand awareness, lead generation, and sales conversion.
You should mainly focus on attracting visitors to your websites and various digital channels.
Besides your website, you should also focus on social platforms such as LinkedIn where your demographic is spending their time online.
Final Thought:
Digital marketing is the marketing of the present and future. It helps to increase your online reach and presence.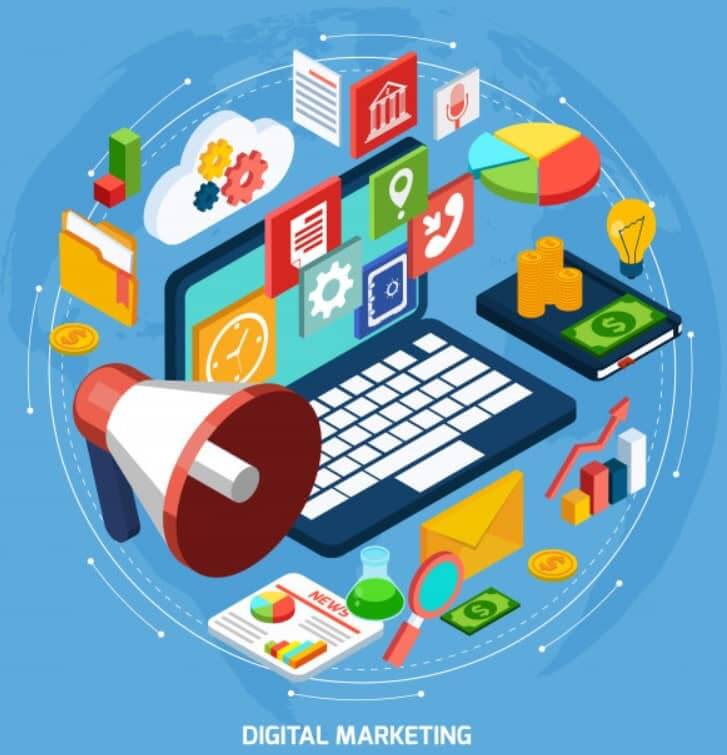 If you also want to enhance your business digitally then read all the guidelines we have mentioned above and start doing digital marketing.
Enjoy reading and comment below if you like what you just read.

Explore More: